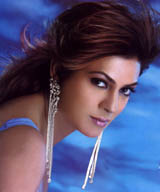 Sushmita Sen
A.k.a / common misspelling: Susmita Sen
IMDB page: http://www.imdb.com/name/nm0784047
Wikipedia page: http://en.wikipedia.org/wiki/Sushmita_Sen
Occupation : Actress, Model

Birth Date : 19 November, 1975

Birth Place : Hyderabad

Zodiac Sign : Scorpio

Height : 5' 9

Hair Color : Black

Education : Ruia College

Marital Status : Single

Languages : Bengali, Hindi, English

Address : 6th Floor, Beach Queen, Yari Road, Versova, Andheri (W), Mumbai 400 061


A person reared in the cocoon of cantonment life, in a middle-class suburb of Delhi, now showered with attention of global proportions. An ambassador of feminine beauty, peace, love, and optimism, at an age most kids are worried about getting a driving-license and a drinking permit. That's Sushmita Sen. That's Miss Universe, 1994 orginally born on 19th Nov 1975.
Sushmita made her debut in Dastak in the role of a vulnerable girl being stalked by a psycho (Sharad Kapoor). The film was a dud at the box office. Soon another flop Zor followed. Things were not going right for Sush.
Then Sushmita did a comic role in David Dhawan's Biwi No.1 and caught movie buff's attention. She had a flair for the comedy. She also did a romantic role opposite Abhishek Bachchan in Bus Itna Sa Khwab Hai. Unfortunately this movie too bombed at the box office. Recently she was seen in a very realistic role in Meghna Gulzar's directorial debut Filhaal. She has got very rave reviews for convincing portrayal of her character in the film.
So far, her biggest hit has been the 2004 movie Main Hoon Na, in which she starred as Shah Rukh Khan's love interest. Later on, she played a lawyer in Main Aisa Hi Hoon opposite Ajay Devgan. In 2005, she also starred in a remake of Cactus Flower, called Maine Pyaar Kyun Kiya: Sen played the lead opposite Salman Khan and Katrina Kaif and essayed the role of Ingrid Bergman. Her most recent movies include Chingaari (2005) as a prostitute, Gulel (2006) and Karma, Confessions and Holi (2006) opposite Drena DeNiro and Naomi Campbell.

Sushmita is intelligent, but it's an intelligence as yet untainted by realism. Before all this happened, here was yet a gossamer world, tipped between the cradle and the crown. Creative rather than literal, poetic rather than pedantic, it is these very qualities that endeared her to the viewers and judges.
She has led a rather normal filmi existence and has had her fair share of carping critics, her erratic lifestyle, her unpunctual ways, her live in relationships, her much married boyfriend Vikram Bhatt, her phenomenal asking price, her undeflated ego, her problem and consequent patch up with Akshay Kumar, all have brought her morethan her share of flak.