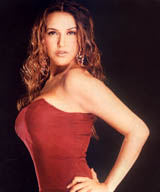 Neha Dhupia
A.k.a / common misspelling: Neha Dhoopia
IMDB page: http://www.imdb.com/name/nm1226448
Wikipedia page: http://en.wikipedia.org/wiki/Neha_Dhupia
Occupation : Actress

Birth Date : 27 August, 1980

Birth Place : Cochin

Zodiac Sign : Virgo

Height : 5' 6

Weight : 54 Kgs

Hair Color : Black

Nick Name : Chhotu

Marital Status : Single

Languages : Hindi, English

Mother's Name : Manpinder

Brother(s) : Hardeep

Boyfriend: Amrish Kumar

Ex-boyfriend : Bunty Sachdeva

Debut Film : TV serial Rajdhani


Neha Dhupia was a 2002 Femina Miss India Universe, Margo Miss Beautiful Skin and MTV Most-Wanted. She was born on 27th Aug, 1980, daughter of commander Pradip Singh Dhupia, who is in the Indian Navy and mother Manpinder is a very family oriented girl who enjoys spending most of the time with her family. She has a brother, Hardeep who is a high flier with Jet Airways. Born in Cochin, Neha went to school in Vizag before passing out of Army Public School.
Neha started her career at the age of 19, in a TV serial Rajdhani, produced by Bobby Bedi of Bandit Queen fame. Neha decided to join modelling world and also did few plays and TV serials. She has imparted a facelift to Reebok, AirTel, National, Mitsubishi Lancer and Wagon R, She has played leading lady in an Indo-Japanese film and appeared in few odd music videos and Tele serial Rajdhani, seems to be in a mood to take up acting as full-fledged career.
Neha Dhupia debut film was Harry Baweja's Qayamat which is an action-packed thriller starring a number of Bollywood actors including Ajay Devgan, Sunil Shetty, Sanjay Kapoor, Arbaaz Khan, Isha Koppikar.
She has bagged an important role in Madhur Bhandarkar's film Police Force. The film also has Akshay Kumar, Tabu and Amitabh Bachchan in the leading roles. Neha did Deepak Shivdasani's Julie where she played the challenging role of a young girl who ends up being a prostitute.
For Neha acting means a 'high very different from modeling'. Despite her debut in semi-realistic film Neha admits that she has no qualms in dancing around the trees.