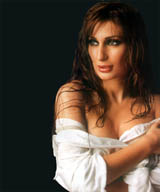 Negar Khan
A.k.a / common misspelling: Negaar Khan
Official Web Site: http://www.negarkhan.com
IMDB page: http://www.imdb.com/name/nm1696149
Wikipedia page: http://en.wikipedia.org/wiki/Negar_Khan
Occupation : Actress, Model

Birth Place : Iran and grown up in Norway

Marital status : divorced

Boyfriend : Luigi Cassandra

Ex-boyfriend : Sahil Khan

Education : Bachelor's degree in marketing and advertising, a master in international business

Likes : wear pink clothes

Hobbies : hockey

Debut Film : Shaadi Ka Laddoo

Languages : Persian, Turkish, Norwegian, English and Hindi


Negar has been a model on international ramps and has also traveled to Norway in the course of her assignments. In India we have seen her in the 'Chadti Jawani' remix video and eye-popping item numbers in movies Rudraksh and Shaadi Ka Laddoo.
Bollywood's latest item number girl Negar Khan was in the controversy for posing topless for a Norwegian magazine.
Negar Khan has again gyrated her half-nude body to controversy by starring in a music video.The music video by Arvinder Singh 'Sharaab Jo Na Piye' shows Negar in hot leather pants gyrating in a witness box, holding a glass of whisky. Negar plays a policewoman in the video complaining against her boyfriend who doesn't drink and Arvinder Singh, his lawyer who pleads, 'Khaas kanoon se yeh rasm bana di jaaye, jo na piye usko saza di jaaye'. The song ends with all present in the courtroom breaking into a dancing jibe. The song also shows the Judge dancing with a glass of whisky in his hand. The lawyers' fraternity seems to have taken an offence for the song and over a petition filed by an advocate and a DU Law student, Delhi High Court has banned the music video.
The sizzling seductress Negar Khan shot a bathroom scene for the film Hello Kaun Hai. The scene shot was of Negar taking a bath, with her bathroom having some mystery elements to it. Producers Ashok Khullar and Govind Mishra along with director Rakesh Sawant launched MG Movies and Swati Films Entertainment Hello Kaun Hai. The movie stars Adam Bedi, Negar Khan, Meera Vasudevan, Nisha Harale, Kabir Bedi, Rati Agnihotri, Tom Alter and Milind Gunaji in lead roles. The movie is expected to release this year.
Negar Khan achieved controversy for having posed topless on the cover of leading Norwegian men's magazine Vi Menn. She denied it, saying that the picture was morphed.
Negar Khan was reported to be involved with Daya Nayak, a Mumbai Crime Branch detective who shot has eliminated over 80 wanted criminals in police shoot outs.
She is a sex symbol in bollywood after geting topless in rampshow.