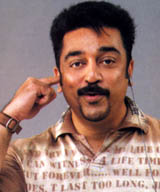 Kamal Hassan
A.k.a / common misspelling: Kamal Hasan
IMDB page: http://www.imdb.com/name/nm0352032
Wikipedia page: http://en.wikipedia.org/wiki/Kamal_Haasan
Occupation : Actor

Birth Date : 7 November, 1954

Birth Place : Paramakudi, Tamil Nadu

Zodiac Sign : Scorpio

Eye Color : Black

Hair Color : Black

Marital Status : Married - Divorced

Languages : Hindi, English, Tamil

Hobbies : Magic

Ex-Spouse : Sarika, Vani Ganapathy

Debut Film : Kalathur Kannamma

Address : 218, T.T.K. Rd, Alwarpet Chennai-600018


Kamal Hassan (born November 7, 1954, in Paramakkudi, Tamil Nadu, India) is a highly acclaimed Indian film actor whose work is mainly based in the Tamil film industry.
Kamal was born to parents, Srinivasan and Rajalakshmi as the fourth and youngest child. His father gave all three of his sons the suffix of "Haasan" as a sign of his friendship to one Mr. Haasan. Kamal entered the film world as a child actor at the tender age of 6 in the film Kalathur Kannamma and has been associated with the film world since then. Kamal learnt the fine arts in his early years instead of school work. As a teenager, he started working as an assistant choreographer in movies and it was during this time that his long and fruitful association with notable Tamil film director, K. Balachander began.
Kamal's acting career spans four decades. He is known in the Indian film industry for his talent and versatility -- he has capably played a diversity of characters in his films. He has appeared in movies made in six languages, including the four major South Indian languages - Tamil, Telugu, Kannada and Malayalam. His other forays were into the North Indian movie industry via Hindi and Bengali films.
He acted in commercialised films for a major portion of his career, but then moved away from the purely commercial ventures. He is also a trained playback singer and sometimes pens the lyrics for the soundtracks of some of his recent films. He is an able performer of the Bharatanatyam dance form. He had assisted in choreography early in his career.
Kamal made his screen debut with Kalathur Kannamma at the age of six and it won him the first National Award for Best Child Artist. He followed it with appearances as a child actor in movies that featured MGR, Sivaji Ganesan and Gemini Ganesh.
Though he was already introduced as an adult hero in earlier films like Avargal, Aval Oru Thodarkathai, Solla Thaan Ninaikkiren, Maanavan and Kumara Vijayam, it was 16 Vayathinile, with Sridevi that established him as a popular teen idol at the age of 23. Together they acted in 23 films and were a popular acting pair. The following year, he got his break with K. Balachander's Telugu hit Maro Charithra.
His first attempt at direction came through an unfortunate turn of events with the demise of director T.N. Baalu during the filming of Sankarlal in 1981. Kamal reached superstardom in 1979 with multiple classics and mass blockbusters which coincided with the decline of MGR/Sivaji era in movies (MGR quit movies in 1977 while Sivaji, nevertheless continued to act till the 90s). Kamal has managed to hold off competition successfully till date by differentiating his films in scripts, roles and get-ups.
Kamal's second attempt at direction came through another unfortunate turn of events when the original director Shantanu Sheroey failed to do a good job while filming Chachi 420 in 1997. Inspired by the European style of closer-to-reality docu-dramas, Kamal moved decisively towards making films for select classes in the 90s, isolating some of his ardent fans.
Kamal's multi-faceted talent came to the fore in off-screen departments like direction, scripting, screenplay, special effects and these reached full bloom in this decade.
Kamal is a three-time winner of the National Film Award for Best Actor for the films Nayagan, Moondram Pirai, and Indian. He also won the national award for Best Child Actor for his performance in Kalathoor Kannamma. He has also received the best actor award at the Asian Film festivals held in 1983 and 1985 for Saagara Sangamam and Swathi Muthyam respectively. Six of his movies have been sent as India's official entry to the Oscars. Kamal has won the Filmfare awards 18 times. He was awarded the fourth highest recognition given to Indian civilians - the Padmashri in 1990. He was conferred an honorary doctorate by Sathyabama Deemed University, Chennai in 2005
Owing to his immense popularity in the Indian film industry, Kamal began producing films. He began with Raja Paarvai in 1981. A more recent production was the film Virumaandi in 2004. His privately-held production house Raj Kamal Films produced several classics like Apoorva Sagodharargal, Thevar Magan, Kuruthipunal etc. His more recent production ventures include the films Virumaandiand Mumbai Xpress.
His magnum opus, Marudha Naayagam, a period film set in early 18th century Madurai about a warrior/freedom fighter Yusuf Khan Sahib or Muhammed Yusuf Khan. The film's launch was inaugurated by Her Majesty Queen Elizabeth II. However, the film is yet to be released.
In 2005, he launched a new business unit called Raj Kamal Audio in a drive to corporatise all his film commitments. In 2006, he purchased prime real estate for a state-of-the-art multiplex cinema.
Endowed with a fiercely independent spirit, Kamal is a self-professed non-conformist and a follower of Periyar though some of his movies have put forward Communist views (like in Anbe Sivam) as well as exposing fundamentalist Hindutva views (like in Hey Ram). Kamal is the first actor to turn his fan clubs into registered non-profit service organizations. Though born to an affluent Iyengar family, he denied his caste identity.
Kamal married Vani Ganapathy in 1978. The marriage was turbulent, issueless and lasted 7 years. After a divorce, he later married Sarika with whom he has two daughters. They finally separated in 2003 after being together for nearly 18 years.