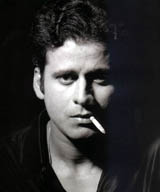 Manoj Bajpai
A.k.a / common misspelling: Manoj Vajpai
IMDB page: http://www.imdb.com/name/nm0048075
Wikipedia page: http://en.wikipedia.org/wiki/Manoj_Bajpai
Occupation : Actor

Birth Date : 3 April

Birth Place : Betya, Bihar

Height : 5' 7

Hair Color : Black

Religion : Hindu

Marital Status : Married

Languages : Hindi, English

Hobbies : Theatre

Contact No. : 91-22- 6335736

Spouse : Neha

Debut Film : Droh Kaal

Address : 304 Victoria, Shastri Nagar, Lokhandwala Rd, Andheri ( W ), Mumbai - 53


Manoj Bajpai a passionate lover of theatre full of fury and raw energy hails from Bilwa in Bihar. Manoj Bajpai was born on 3rd April. He has earned his acting credentials doing theatre (was rejected thrice by the National School of Drama). He is the actor who is known for his acting sensibilities.
Manoj's ambitions and dreams to make his place under the arc lamps drove him from a sleepy town in Bihar to work his way up from TV roles to small character roles in films like Bandit Queen. Pooja Bhatt spotted him for her film Tamanna where again he went unnoticed. Even after his first few films he was not a Known actor as far as the audiences were concerned. And then Satya happened and Manoj became synonymous with just one name 'Bhiku Mhatre'.
Being a stickler for variety Manoj has always dug the roles that offer him the scope to convey myriad emotions. He showed his hand at comedy in Hansal Mehta's dark comedy Dil Pe Mat Le Yaar and his subtle Land resisted performance in Zubeidaa just adds another feather to his cap. This man has the dream of working with Martin Scorcese and with the kind of adulation and fanfare he has now, the day should not far enough.
He has won another applause for his finely etched performance in Pinjar. In LoC also his work is appreciated.