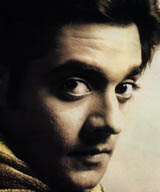 Chandrachud Singh
A.k.a / common misspelling: Chandrachood Singh
IMDB page: http://www.imdb.com/name/nm0802103
Occupation : Actor

Birth Date : 11 October 1968

Birth Place : New Delhi, India

Debut Film : Maachis


In an industry teeming with star sons and godfathers, Chandrachud Singh is a loner. Forced to play second fiddle in films like "Kya Kehna" and "Josh", the handsome hunk is experimenting with roles that have shades of gray.
Call it the latest fad or the new wave of sadism thatís gripping the psyche of Bollywood stars, everyday one hears of more and more actors striding into Bollywood's roguesí gallery. Of course, it is understood that the image overhaul became mandatory for many actors after the Hrithik wave swept the tinselville. But what is amazing is the nonchalance with which these actors have shed their hero image and got down to playing the villain.
The latest to step out of the hero's shoes and don the villainís mantle is the 'Maachis Boy' Chandrachud Singh. The handsome Singh has signed not one but two films which will cast him in negative roles.
First, there is "Bharat Bhagya Vidhata" in which he is pitted against veterans like Shatrughan Sinha and Jaya Prada. In the film Chandrachud plays a terrorist who kidnaps two young lovers (played by newcomers Vikramaditya and Rinke Ghosh) along with Jaya Prada, the wife of country's Home Minister (played by Shatrughan Sinha).
Another film that casts him as the bad man is music director Vishal Bhardwaj's directorial debut "Baraf". The film, an offbeat offering, has Chandrachud waging a fierce battle of brawns and wit with Manoj Bajpai. Produced by Ajay Devgan, the film has Sushmita playing Manoj's love interest.
Says Chandrachud: "These films would be a step further in my pursuit to be a complete actor who can carry off roles with different shades".
Well, it has been five years since he first stepped under the arc lamp, but one can still find in him the dedication and vigor of a newcomer.