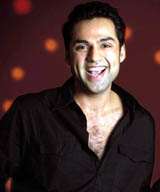 Abhay Deol
A.k.a / common misspelling: Abhaye Deol
IMDB page: http://www.imdb.com/name/nm1867717
Occupation : Actor

Birth Place : Mumbai

Brother : Sunny Deol ,Bobby Deol

Marital status: single

Education: a graduate from Otis Parson's School of Fine Arts and Design

His heroine: Angelina Jolie and Madhuri Dixit Debut Film: Socha Na Tha

Languages: hindi, english


Abhay Deol ne kabhi socha na tha. His debut film, Socha Na Tha, has got him noticed. It?s an unusual launch pad for a debutant who belongs to a hardcore filmy family.
Abhay connects with an urbane audience. It has relatable characters.
We tell Abhay that his cousins, Sunny and Bobby, are always larger than life. Abhay jumps to their defence. Abhay did theatre in college in Los Angeles. After his return to Mumbai he did a play with Partap Sharma. He has also attended acting workshops.
Abhay is keen on doing action films.