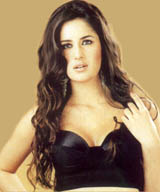 Katrina Kaif
A.k.a / common misspelling: Katreena Kaif
IMDB page: http://www.imdb.com/name/nm1229940
Wikipedia page: http://en.wikipedia.org/wiki/Katrina_Kaif
Occupation : Actress, Model

Birth Date : 16 July, 1984

Birth Place : London, Great Britain

Hair Color : Black

Marital Status : Single

Languages : English, Poor Hindi

Boyfriend : Salman Khan

Debut Film : Boom


Katrina Kaif (born July 16, 1983) is a model and Bollywood actress. She has acted in Hindi, Telugu and Malayalam films.
Her mother is English and father a NRI originally from Kashmir. She was born in Hong Kong, grew up in Hawaii and London. She has seven sisters.
She worked as an photographic model in advertising before entering the film world.Katrina Kaif unusual beauty, her overnight success as a model, her provocative work in Boom, and well, her being linked to Bollywood actor Salman Khan, all add to Katrina Kaif's notice. At 20, she is known in the industry as the beauty with brains. She also gets full marks for professionalism.
She came to Mumbai & started her career with Modelling. She signed Boom, but it was not successful. Boom was a typical Bollywood set-up. That was a combination of things going wrong. That was her learning experience. She is considered a very beautiful woman by a lot of industry people.
She has done two Telugu movies - Malliswari(2004) and Allari Pidugu(2005). In 2005 she starred in Maine Pyaar Kyun Kiya opposite Salman Khan and Sushmita Sen and had a role in Ram Gopal Varma's Sarkar. In 2006, she debuted in Malayalam Cinema through the Mammootty starrer Balram v/s Tharadas
Her voice is also being dubbed by another actress, due to her unfamiliarity with Hindi. She will be using her own voice in her next film.
She is a private person and don't go to too many parties. She wants to go normally with friends. And she is also very particular about her clothes which she wears a bold outfit on screen or for ads but she feels more comfortable in not-so-revealing clothes in personal life. She had just finished his Kathak classes in 40 days only in which she had to dance for 7 hours non-stop everyday.