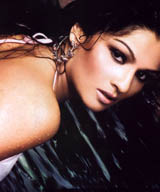 Tejaswini Kolhapure
A.k.a / common misspelling: Tejaswani Kolahpuri
IMDB page: http://www.imdb.com/name/nm1339267
Occupation : Actress

Sister : Padmini Kolahpure


Tejaswini Kolhapure, better known as Padmini Kolhapureís younger sister.As a youngster, Tejaswini was never inclined towards acting. So when Rahul Rawail offered her the lead role in his Bekhudi some years back, instead of clinching it, Tejaswini preferred to walk the ramps. Thereafter, having the catwalks for years, she decided to give television a shot. Thatís when 'Mujhe Chand Chahiye' happened. And now moving a step further onto the silver screen.
With her debut film Paanch shelved for a long time, Tejaswini Kolhapure has yet to make a start in Bollywood. Paanch, launched by none other than her sisterís hubby, Tutu Sharma, the story is about a 5 member music band struggling to make it big on the movie scene. Tejaswini plays one of the quintets, a sassy and selfish girl. Reputed failure stems frustration among the rockers who finally commit a crime and get themselves into a fix.
Tejaswini had recently walked out of award-winning filmmaker Manish Jha's film Matrabhoomi, because the role required her to expose. The young Kolhapure girl was acting on special guidance by her elder sister and former actress Padmini Kolhapure and her husband and film producer Tutu Sharma.
However, Tejaswini seems to have learned that she canít afford to be so choosy when her Bollywood career is yet to take off.
So the girl has signed for debutant director Harry Fernandes film Anjaane: The Unknown despite the fact that some scenes in the film require her to wear skimpy swimsuits. Anjane is the Hindi remake of the Nicole Kidman's supernatural thriller ĎThe Othersí.
Tejaswini debut film Paanch still has to hit the theatres and appears to have been dumped for the time being. But Tutu is not throwing in the towel. He is all set to produce yet another movie with Tejaswini in the leading role.
The movie titled Hum, Tum...Woh will co-star Aftab Shivdasani and will be directed by Rahul Rawail's nephew Rajat Rawail. Presumed to be a thriller, the film will also have newcomer Darshika in a parallel role. The movie is based on a story by Tutu himself. It will go on the floors in October.