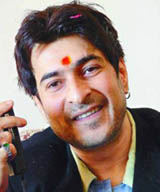 Sharad Kapoor
A.k.a / common misspelling: Shrad Kapoor
IMDB page: http://www.imdb.com/name/nm0438505
occupation : Actor

Birth Place : Calcutta

Debut Film : Dastak


It was a dream debut for him. Any other newcomer would have made the most of this opportunity given to him but Sharad Kapoor found he required much more than the famous Kapoor surname. Not every Kapoor could be do wonders in this big industry.
Sharad was in Dastak what Shahrukh Khan was in "Darr". He was the obsessed lover who wanted his girl by hook or by crook. The girl was none other than newly crowned first Indian Miss Universe Sushmita Sen. Shahrukh's career must have taken a somersault but Sharad found himself looking for a survival kit. He found none. This dream turned out to be a nightmarish adventure for Sharad who had just landed up in Mumbai from Calcutta (Kolkata) and trying his luck in Bollywood. His debut was quite an impressive one but from there on he failed to select the right kind of film for him. He took to complacency thinking after Dastak the going would be a cakewalk for him. But reality struck and struck him bad.
After his debut, he kept doing multi-hero films, which kept him going but failed to strike the right chord. He was termed as a bad clone of Shahrukh. His films failed to impress anyone. Coincidently, it was Shahrukh who came to his rescue. As luck would have it, Sharad got his second beckoning in the form of Josh, opposite none other than the big SRK. Pitted against him, he came out real good in Josh and suddenly the entire film fraternity sat back and appreciated his work as Prakash. Sharad had at last found his calling.
The critics and cine goers have appreciated his performance equally and this is a good sign for his sinking career. For the first time, he was nominated in the best supporting actors category.It looks like flourishing days are here for him. Hardwork sure pays off and who else but this Kapoor could be a better example for this?