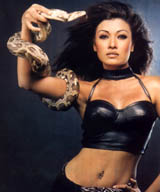 Koena Mitra
A.k.a / common misspelling: Koina Mitra
IMDB page: http://www.imdb.com/name/nm1239827
Occupation : Actress

Birth Place : Kolkata

Zodiac Sign : Capricorn

Height : 170 cms

Weight : 54.0 kgs

Hair Color : Black

Education : Psychology degree

Marital Status : Single

Languages : Bengali, Hindi, English


Koena Mitra the Bengali Bombshell and winner of Gladrags Supermodel Contest has now forayed into Bollywood. Koena has done numerous Music Videos and Commercials too. Winner of Gladrags Mega Model 2002 this sultry and hot model from Calcutta is here to make it big. She took the modelling world by winning the Supermodel title and later on went on to become the semi-finalist of Miss Intercontinental. Koena aspires to be an actress and featured in quite a few music videos like 'Stereo Nation´s Ishq', 'Aaj Ki Raat', 'Akh Teri', 'Channo' by Jassi.
The lady had set waves with an item number in Ram Gopal Varma´s film Road. Koena is very much excited after working with Ram Gopal Verma and believes that whoever works with him will eventually be successful because he is a man who deals only with success. And she was honoured to be worked with him. In fact that´s why despite being very conscious in choosing her films she opted to do a cameo in the film.
Koena was flooded with offers to do raunchy numbers in Bollywood movies, but she refused as she was waiting to make her mark as an actress. It took Koena two years and Sanjay Gupta's 'Musafir' to break the mould. Even tough the actress played a dancer in the movie, she did have a cameo.
Pritish Nandy's 'Ek Khiladi Ek Haseena' was Koena's first claim to fame as she played the lead actress opposite Fardeen Khan in the movie. Even tough the movie wasn't a hit, Koena finally made it to the actress club. Koena dramatics aren't very impressive, but she is able to procure roles with her dancing style and image.
Koena has done commercials like ACP Whisky, Mirinda, Clinic All Clear, Maruti Alto. Right from her childhood Koena was attracted to the glamour world and wanted to be an actress and soon realised that to be recognised one has to win a contest or a beauty pageant and thus she participated and won the Gladrags Mega Model last year. And now it's no looking back for this beautiful and confident lady.