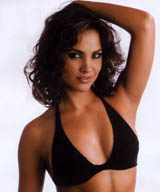 Lara Dutta
A.k.a / common misspelling: Laara Dutta
IMDB page: http://www.imdb.com/name/nm1069034
Wikipedia page: http://en.wikipedia.org/wiki/Lara_Dutta
Occupation : Actress

Birth Date : 16 April, 1987

Birth Place : Bangalore

Zodiac Sign : Aries

Height : 5' 8

Hair Color : Black

Education : Graduated in economics with a minor in communications from the Bombay University

Marital Status : Single

Languages : Hindi, English

Hobbies : Sport enthusiast with rock climbing and bungee jumping

Mother's Name : Jennifer Dutta

Spouse : briefly dated Derek Jeter

Debut Film : Andaaz

Address : 401, Merry Villa, 25, St. Andrews Road, Bandra (W) Mumbai 400 050


Lara Dutta (born April 16, 1978) is an Indian actress who appears in Bollywood films. She was crowned Miss Universe in 2000.
Dutta was born in Ghaziabad, Uttar Pradesh to father Wing Commander L.K. Dutta (retired) and mother Jennifer Dutta. Her family moved to Bangalore in 1981 where she completed high school. Her sister serves in the Indian Airforce. Lara graduated in economics with a minor in communications from Bombay University.
In 2001, she gained some attention in the United States for dating New York Yankees shortstop, Derek Jeter. Their relationship lasted for approximately one year.
Lara Dutta Miss Universe of 2000 is a stunning, confident woman with determination, maturity of thought, ideas and expression. At the age of 16 she left her home from bangalore to come to mumbai and realize her dreams. Before Miss universe she was a successful print and ramp model.
Lara has embarked on another path the road to stardom in Bollywood. Her debut film was Andaaz. She got the film fare award for Andaaz as a new comer. The film and its music was hit. After that her one more film came Mumbai Se Aya Mera Dost. In both films her work was appreciated. Currently Masti in which she is playing a small role, are running in theatres successfully. She had done film Aan in which she was opposite Akshay Kumar. She looks ahead to many more and her steely determination lead her to win.
Apart from these she participated in various AIDS related events and worked along with the UNFPA.
Lara Dutta is having an affair from past few years with Kelly Dorji a successful model.