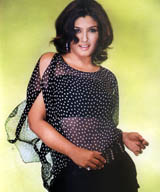 Raveena Tandon
A.k.a / common misspelling: Ravina Tandon
IMDB page: http://www.imdb.com/name/nm0849199
Wikipedia page: http://en.wikipedia.org/wiki/Raveena_Tandon
Occupation : Actress

Birth Date : 26 October, 1970

Birth Place : Mumbai

Zodiac Sign : Scorpio

Height : 5' 5

Weight : 58 Kgs

Hair Color : Black

Marital Status : Married

Languages : Hindi, English, Marathi, Punjabi and a bit of Tamil

Nick Name : Ravs

Mother's Name : Veena Tandon

Brother(s) : Rajiv Tandon

Spouse : Anil Thadani

Ex-Spouse : Ex-boyfriend: dated Akshay Kumar

Daughter : Rashi

Debut Film : Patthar Ke Phool

Address : Tandon House, Nippon Society, Juhu Church, Mumbai 400 049


The ravishing Raveena Tondon - Bollywood's Blonde - was born on 26th Oct 1974. She is the daughter of Bombay film industry (Bollywood) director Ravi Tandon. Raveena dropped out of Bombay's Meethibai College to pursue a career as a model with middling success. She made her movie debut with the flop Pathar Ke Phool (1991) for which she bagged "Filmfare Award for Best Female Debut" in 1991. Her next few films were also failures and it was only with Andaz Apna Apna (1994) that she tasted success.
Mohra (1994) made her a superstar all set to become Bollywood's reigning actress. However she then began a tangled affair with co-star Akshay Kumar. By the end of 1995 her career was in tatters and she was reduced to the level of a starlet doing bit roles. Her career revived with a huge hit Ziddi (1997) and she now is again a top rung star.
She then began to do films which ganered critical acclaim rather than box office success. Films like Shool (1999), Bulandi (2000) and Aks (2001) won her huge acclaim. She won the Filmfare Special Performance Award for Aks. Her years in the industry paid off when she won the National Film Award for Best Actress for her performance in the film Daman: A Victim of Marital Violence (2001), where she played a wife of an abusive husband.
She is married to Anil Thadani and gave birth to a baby girl on March 16th 2005. She had previously dated actor Akshay Kumar with whom she starred with in many films.