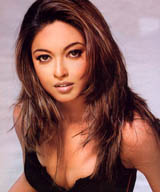 Tanushree Dutta
A.k.a / common misspelling: Tanushri Dutta
IMDB page: http://www.imdb.com/name/nm1890268
Wikipedia page: http://en.wikipedia.org/wiki/Tanushree_Dutta
Occupation : Actress, Model

Birth Date : 1985

Birth Place : Jamshedpur

Height : 5' 8

Hair Color : Black

Marital Status : Single

Languages : Hindi, English

Father : Tappan - officer of Life Insurance Corporation of India

Ex-boyfriend : Aaditya Dutt

Debut Film : Aashiq Banaya Apne


Tanushree Dutta was born and raised in Jamshedpur, Jharkhand state (then Bihar), and did her graduation in communications in Pune, Maharashtra.
She won the Femina Miss India title in 2004, and placed among the top ten in the Miss Universe 2004 pageant held in Quito, Ecuador.
She debuted in Bollywood in 2005. She worked on two films simultaneously - Chocolate and Aashiq Banaya Apne. Chocolate was intended to be her debut film, however its release was preceded by Aashiq Banaya Apne, which led to differences with the Chocolate director Vivek Agnihotri. The performance in Aashiq Banaya Apne is very impressive, and inspite of the good songs in films Tanu has created craze among the boys .
Tanushree was noticed in the Aashiq Banaya Apne remix song with Himesh Reshammiya. People went crazy for that Album and she gained a lot of recognition.
Tanushree also loves children, but says does not want her own.
Tanushree also likes to cook. In the recent issue of Filmfare it said that Tanushree can cook really good food with a cookbook.