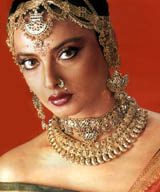 Rekha
A.k.a / common misspelling: Reekha
IMDB page: http://www.imdb.com/name/nm0004334
Wikipedia page: http://en.wikipedia.org/wiki/Rekha
Occupation : Actress

Birth Date : 10 October, 1954

Birth Place : Chennai

Zodiac Sign : Libra

Height : 5' 7

Hair Color : Black

Original Name : Bhanurekha Ganesan

Education : Meethibai College

Marital Status : Single

Languages : Hindi

Hobbies : Watching films, collecting postcards, drawing cartoons, mimicking people, photography, collecting old photographs

Mother's Name : Pushpavalli

Sister(s) : younger sister Dr Kamala Selvaraj

Spouse : None

Ex-Spouse : Mukesh Aggarwal and Vinod Mehra, had secret affair with Amitabh Bachchan

Debut Film : Rangula Ratnam

Address : Sea Springs, Bungalow No. 2, Bandstand, Bandra, Mumbai 400 050


Rekha (born October 10, 1954) is a legendary Bollywood actress.
Born in 1954, in Chennai, India, Bhanurekha Ganesan (later known simply as "Rekha") is the daughter of renowned Tamil actor Gemini Ganesan and the Telugu actress Pushpavalli. Her father hailed from an orthodox Smartha Brahmin family belonging to the Mulukanadu sub-caste but chose to take up acting as a profession. He enjoyed phenomenal success. Rekha was to follow in his footsteps..
Rekha's parents were not married, and her father did not acknowledge his paternity during her childhood. It was during the early 1970s, when she was looking for a footing in the Bollywood film industry, that she revealed her origins. Later, at the peak of her career, Rekha told a magazine interviewer that her father's neglect still rankled and that she had ignored his efforts at reconciliation. Rekha was a superstar.
Rekha appeared as a child actor in the Telugu film Rangula Ratnam (1966). She took up acting as a career with two films released in 1970: the Telugu film Amma Kosam and the Hindi Sawan Bhadon, neither of which were successful. She remained in Bollywood, struggling to find her footing in an extremely competitive industry. She appeared in several successful films, such as Kahani Kismat Ki, Raampur Ka Lakshman and Pran Jaaye Par Vachan Na Jaaye.
She first attained real fame in 1978 with Muqaddar ka Sikandar, in which she co-starred with Amitabh Bachchan. She went on to co-star with Amitabh in a number of 1980s hits. The most scandalous of these was Silsila, in which she played Amitabh's love interest and Amitabh's real-life wife, Jaya Bhaduri, played his wife. She also starred in the film Umrao Jaan. The film was considered one of her best performances and she received the National Film Award for Best Actress. In films such as Muqaddar ka Sikandar and Umrao Jaan, her portrayal of courtesan with a heart of gold won acclaim and she played similar roles in other movies.
She was rumoured to be Amitabh's real-life flame and the film-column gossip may have contributed to her success. However, even critics had to admit that she had worked hard to perfect her Hindi and her acting, and that she had transformed herself from a "plump" duckling to a "swan" in the early 1980s. Rekha credits this transformation to yoga, a nutritious diet, and a regular, disciplined life.
After her "Bachchan era", Rekha took on increasingly serious, even adventurous roles. She starred in heroine-oriented films such as Khoobsoorat, Khoon Bhari Maang, Umrao Jaan, and Mujhe Insaaf Chaahiye. She was also willing to work with independent and "art film" directors, in films such as Utsav, Basera, and Ijaazat.
In recent years, she has appeared in relatively few movies, usually as a mother or a widow rather than a glamour queen. She has won praise for her acting in films such as Zubeidaa (2001), Dil Hai Tumhaara (2002), Koi... Mil Gaya (2003) and Parineeta (2005). This year, she has been seen in the sequel to Koi... Mil Gaya i.e Krrish, where she plays Krishna (a.k.a. Krrish) (Hrithik Roshan)'s grandmother.
She also won the coveted National Film Award for Best Actress for her performance in Umrao Jaan.
She also won a Star Screen Award for Best Villain for her performance in Khiladiyon Ka Khiladi and a Zee Cine Award for Lifetime Achievement in 2006.
The young Rekha filled the gossip columns with rumours of affairs with actors Jeetendra, Vinod Mehra, Kiran Kumar, and Amitabh Bachchan. She was rumored to have married Vinod Mehra in the 80s, but in a 2004 television interview with Simi Garewal she denied being married to him calling him a "well-wisher." In 1990 she married Delhi-based businessman Mukesh Aggarwal. He committed suicide in 1991. Rekha currently lives a secluded life in Mumbai.