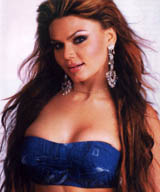 Rakhi Sawant
A.k.a / common misspelling: Rakhi Sawanth
IMDB page: http://www.imdb.com/name/nm1179156
Wikipedia page: http://en.wikipedia.org/wiki/Rakhi_Sawant
Occupation : Actress, Model

Birth Place : Mumbai


Rakhi Sawant is a controversial actress in Bollywood. She is popular as an item girl.
Rakhi Sawant was born to a Marathi Hindu family in Mumbai. Her father is an ACP with the Mumbai Police. She has a brother, Rakesh and a sister, Jaya. Rakhi studied in Goklibai School, Vile Parle and later studied Arts at Mithibai College
Sawant was still in school when director Suneel Darshan offered her an Item Number opposite Govinda in Joru ka Gulam. Three years later, she auditioned four times before winning her breakthrough Item number Mohabbat hai Mirchi in Chura Liya Hai Tumne in 2003. During this period she fell out with her father who despised the film industry. ACP Sawant, a conservative man, felt that acting was not a respectable profession. Her mother, Usha Sawant, had no such qualms however, having herself received offers to act in Gujarati cinema. After her first role, she gave up acting at her husband's insistence, but harboured hopes that her children would make it big in the industry.
After Sawant insisted on continuing her career, her father left home in protest, and now lives alone in a Government apartment. He visits his wife, who lives with Sawant, only on festivals. Sawant is now effectively the head of the household. Her sister Jaya also acted in two films but quit after her marriage. Rakesh is a director awaiting the release of his controversial debut Hot Money, which stars his sister. Rakesh lives with his wife in an apartment purchased by his sister, who is also funding his career.
Sawant has attracted a great deal of attention by appearing on stage and screen in very skimpy outfits. While this has increased her popularity, it has caused her to face flak from many quarters. In May 2006, she was booked for obscenity by the Kolhapur Police, after a stage show in the city. She was let off with a warning. A month later, she was again in the news when she filed a molestation case against pop singer Mika, younger brother of Daler Mehndi, who forcibly kissed her at his birthday party, where she was a guest.