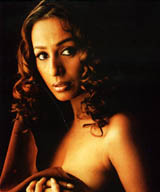 Kashmira Shah
A.k.a / common misspelling: Kasmira Shah
IMDB page: http://www.imdb.com/name/nm0787447
Occupation : Actress, Model

Nickname: Kashmera

Height: 5'7" or 1.70 m

Country: India

Marital status: married

Spouse: American investment banker Brad Listermann

Other facts: she resides in Los Angeles, California

Debut Film: Private Detective: Two Plus Two Plus One

Languages: hindi, english


Kashmira Shah has made the move from item girl to "it" girl. People first saw her in Yes Boss, recognised her after Vaastav and loved her because of Jungle. These are the three landmarks in her career. In 1993 she won the 'Miss World University India' and went on to national contest in South Korea and won the 'Miss Talent award'. In 1995 Inaugurated the 'Miss Globe' and was 'Miss Globe India'. Resulted in Best National Costume award and was in the top 5.
At the age of 16 she had decided that she will enter the world of Film Industry. She announced in her family about this and all hell broke loose. Her mother and her grandmother are classical singer and they wanted her, to join them. So Kashmera and her mum, who supports her walked out of their matriarchal family "With just Rs 250 in their pocket." Kashmira was only 16 and obviously it wasn't easy. She got a portfolio shot and just went out and started meeting people. She had no contracts. It was a struggle but she knew she had burnt the bridges behind her, so the only way was ahead.
She began to do catalogue work for Rs 500 an assignment. Sometime on a good day, She get Rs 750. Often she just wanted someone to tell her that she was not wrong in dreaming about her future. There were times when she felt very alone but never felt like giving up. All she knew was that she wanted to be an actress and would die trying.
And soon enough, she got her first break on the silver screen Yes Boss with Shah Rukh Khan and Juhi Chawla.
Till now she had done many films, theatres, item songs. Pyaat To Hona Hi Tha, Koi Kissi Se Kam Nahin, Saazish in which had done small role. In lead role she came in Dulhan Banoo Mein teri. She had done 2 plays also 'Meena Kumari' and 'Laila'. Done lead role in TV soaps "Baat Ban Jaaye" and "Saturday Suspence". In 2002 Lead Supporting Role in Janasheen.
In 2000 Nominated for 'Best Female in a Negative Role' at Screen Videocon Awards for Jungle.
Then her terrorist act in Jungle, seems to be gravitating towards baddie roles. She is going into the negative slot. She feel more comfortable with negative roles . Despite the success of Jungle, Kash did only item numbers in Dil Pe Mat Le Yaar in 2001.
Meanwhile, she's got some interesting local releases coming up. In Roshni, with Bikram Saluja, she is a desi Glenn Close (in Fatal Attraction). In Jhamu Sughand's System, she plays a mafia don, the film about the corrupt bureaucratic system which is being directed by debutant director Arvind then in Feroz Khan's next flicks, she's a bad-ass babe on a bike.
She is in discussion for three roles in films made abroad, out of them in one film the story revolves around a her who grows up the same day that she is born. She plays a gynaecologist in the film. Being a Hollywood film, the heroine had to be an American-looking blonde. She excited about 'Mayfly', where she may get to co-star with Anne Bancroft. She's serious about starting over and has even got herself a place in the States.