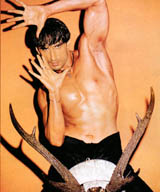 Rahul Dev
A.k.a / common misspelling: Rahuldev
IMDB page: http://www.imdb.com/name/nm0222144
Wikipedia page: http://en.wikipedia.org/wiki/Rahul_Dev_Burman
Occupation : Actor, Model

Birth Date : 27 Sep

Height : 6'

Brother : Mukul Dev

Spouse : Rina


Rahul Dev born on 27 Sep, 6 feet tall, with the unconventional looks, who created a storm in the Modeling industry. His raw, earthy look is what set him apart from the rest of the chocolate faced models. His father was the former Police Commissioner of Delhi and his brother 'Mukul Dev' is an actor.
He is said to be 'The Czar of the modeling circuit." He has launched some of the biggest male fashion trends and modeled for probably every male toiletry product thatís available in the market. His most distinguishing feature is his hair, which has always been a hot topic for discussion and speculation.
His chiseled features are a big hit with the producers of the film industry who are looking for harsh and angled body and looks to play the villain. It was the late Mukul Anand who saw the talent in him and immediately signed him to play the main baddie in his magnum opus Dus.
He also clash daggers with Sunny Deol in Champion and then teams with brother Mukul Dev in Vivek Vaswani's Bardaash. He had done Supari. He can now be said to be caught and held in the film industry he never thought he would be in and doing so well at that too.
He feels that discotheques are lucky for him, as he not only got his first assignment there but met his wife for the first time in one too. His wife Rina is a lawyer, whom he is very devoted to and is also a proud Papa of a three year old boy.