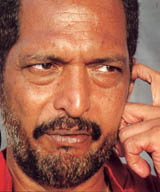 Nana Patekar
A.k.a / common misspelling: Nana Patekhar
IMDB page: http://www.imdb.com/name/nm0007113
Wikipedia page: http://en.wikipedia.org/wiki/Nana_Patekar
Occupation : Actor

Birth Date : 1 January, 1951

Birth Place : Murud-Janjira, Maharashtra

Zodiac Sign : Capricorn

Eye Color : Black

Hair Color : Black

Religion : Hindu

Marital Status : Married

Languages : Hindi, English, Marathi

Son : Malhar

Debut Film : Gaman

Address : 304 Sheetal, Apna Ghar Society, Samarth Nagar, Andheri, Mumbai 400 058


Nana Patekar, (real name Vishwanath Patekar, born 1 January 1951 in Maharashtra) is an Indian actor and filmmaker.
Nana Patekar is said to have a unique acting style. It is widely rumoured that he ad libs all of his lines, and is held in high regard for this ability. He is known to give generously to the poor.
While he acted in movies such as Mohra (1987) and Salaam Bombay! (1988), he was noticed by the mainstream Bollywood industry and audience alike for his portrayal of the villain in the 1989 film, Parinda. He was awarded the Filmfare Best Supporting Actor Award for the role. He also won the Filmfare Best Villain Award in 1992 for Angaar. He is very famous for his acting style
He is very well known for his role in the movie Ab Tak Chappan (2005) in which he plays a police officer whose main task is to rid the streets of underworld dons. In 1994 he won the National Film Award for Best Actor for his performance in Krantiveer (1994). He also won the Filmfare Award and the Star Screen Awards in the best actor category
Patekar has experimented when it comes to film roles. He has done the occasional villain but has also played a hero in most films. He played a truant, gambling son in Krantiveer (1994), a wife beater in Agnisakshi (1996), a deaf and dumb father in Khamoshi: The Musical (1996) and a schizophrenic in Wajood (1998).
He also turned director with his movie Prahaar: The Final Attack co-starring Madhuri Dixit. His other films as an actor include Hu Tu Tu and Bluff Master. He once again gave a good performance in his latest film Apaharan. He received the Filmfare Best Villain Award as well as the Star Screen Award Best Villain.
Patekar has also done some playback singing in the films Yeshwant (1997), Wajood (1998) and Aanch (2003).
He is the only actor ever to win Filmfare Awards in the Best Actor, Best Supporting Actor and Best Villain categories.