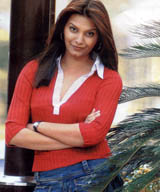 Diana Hayden
A.k.a / common misspelling: Diayna Haden
IMDB page: http://www.imdb.com/name/nm1350582
Wikipedia page: http://en.wikipedia.org/wiki/Diana_Hayden
Occupation : Actress, Model

Birth Date : 1973

Birth Place : Hyderabad, Andhra Pradesh

Height: 5'10"


Diana Hayden, Miss World of 1997, 5'10" tall born in 1973. She is an Anglo Indian from Hyderabad, she comes from parents who are separated, but her family was still very close-knit. As a teenager, she was a tomboy. She graduated from Osmania University in English by correspondence.
She then moved to Bangalore, and later to Bombay and earned her living by doing odd jobs, small time modeling, managing fashion shows, working her way through her studies without assistance from home. This made her a very independent and confident woman. Her break was her job with BMG, where she managed artists like Anaida and Mehnaz.
It was Anaida who forced her to send her pictures for the Miss India Contest. She went on to win the Miss World Contest held at Seychelles in 1997.
She is the only Miss World to have won a hat-trick at the event (Miss Photogenic, Miss Beach-wear/swimsuite competition, Miss World 1997). and the only Indian model ever to appear on International television modeling products (L`oreal ads were broadcasted in several countries such as London, Paris, Milan, New York etc.....). CAP- Child And Police- a rehabilitation project under Dr. Reddy's Foundation, Hydrebad, which is her pet project, where she is an advisor to the board of the foundation. The project deals with the police taking off children from the streets and educating them.
She has completed a 5 weeks course on Shakespeare at the Royal Academy of Dramatic Arts in London and is engaged in a year long training at Drama Studio, London. The buzz, is that her director boyfriend, Kaizad Gustaad is scouting for the proper script to launch this world-famous beauty.
Diana finds the words marriage and commitment very daunting. She plans to give her best to her career and, only then will she go the family way.